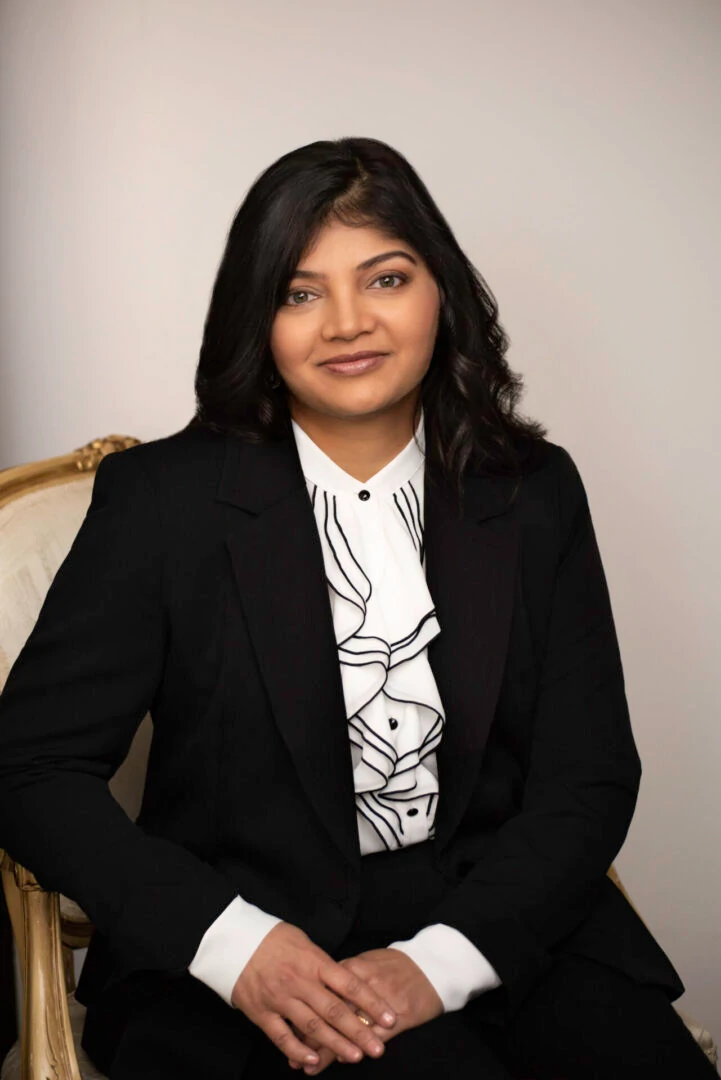 A Message
From Our Dentist
"How can I make it better?" That's a question I ask myself every day.
Hello, I'm Dr. Mansi Oza. I'm a dentist who is not fond of going to a dentist myself. I've been on both sides. My experiences of being a patient and an associate doctor working for someone left me desiring more, better. I understood what my patients want and deserve.
This understanding gave birth to Thurmont Smiles, where we do things differently.
I'm dedicated to making our patients feel comfortable, respected, and heard.
My vision for the practice is to be the best of the best to help our patients eat comfortably, smile confidently, and live healthfully.
We exist to make a positive difference.
I invite you to experience us and be part of our dental family."
- Dr. Mansi Oza, BDS (Gold Medalist), DMD (UPenn), FICOI
Your Comfort and Relaxation
Are Our Priority
We have carefully designed our space; calming pastel colors throughout the practice convey the feeling of relaxation and serenity. Fresh flowers and light music will put you at ease. We will spend time with you, so we can listen to your goals and design a customized treatment approach that's just right for you.
Experienced team with 50+ years of combined dental experience
We like being SLOW and THOROUGH
Hospital grade safety protocols
Flexible financial options
No Insurance? No problem-In office  Dental Discount Plan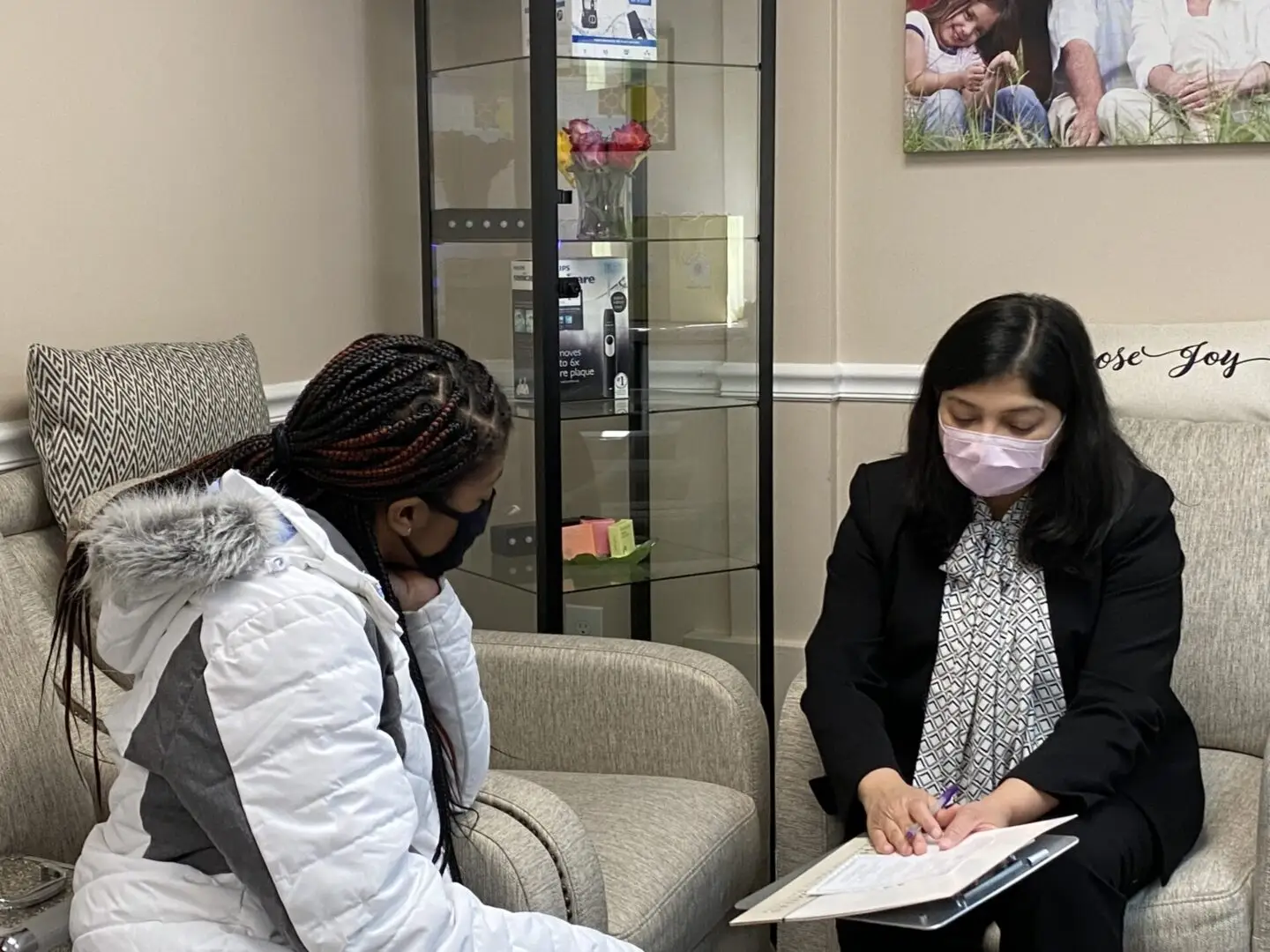 Focused on finding the root cause of the oral and dental problems
Dental Ozone for healing
"Drill less, heal more" approach
Mercury Safe and Mercury Free practice
Non toxic products and materials
Click on each picture to learn more
Click on each picture to learn more
Community Outreach
And Engagement
At Thurmont Smiles, we value supporting and helping others and making an impact. We have joined and supported organizations like the Seton Center, Inc., local schools, and local teams. In addition, our Smile Team regularly participates in our community's programs and events.
We have donated books to our local library, and our office serves as a drop-off location for Toys for Tots. Our team has also organized back-to-school backpack drives, canned food drives, toothbrush donation drives, and Halloween candy buyback drives.
Since 2018, we've started to offer complete, life-changing Smile Makeover at no cost to a deserving person once a year. There is absolutely no limit to the treatment costs of this service. Giving someone a confident smile and properly functioning teeth and restoring their health are our top priorities.
Thurmont Smiles hosts an annual Patient Appreciation Party to appreciate our amazing patients. We also conduct contests on our social media pages to engage and have fun with followers. In addition, we offer giveaways to the people in our community and link up with other local businesses that also aim to serve the residents of Thurmont.
What Patients Say About Us
Donald M.
I met Dr. Oza at a dental practice in Frederick. I was thrilled when she opened her own practice in Thurmont. Dr. Oza always has her patients' best interests at heart. She is caring and considerate. She is patient and wants to be sure you are comfortable and pain free while in her chair. I trust Dr. Oza completely and would highly recommend her to anyone looking for a kind and caring dentist.
Avie H.
Everybody was so friendly and professional! My teeth looked great after every visit and it's always a positive atmosphere in the office. All the dentist assistants are very sweet and are thorough with their jobs. Dr. Manzi Oza is especially thorough and makes sure your comfortable in any procedure. She's a great dentist and I would definitely recommend going to their dentist office!
Jeffrey L.
Thurmont Smiles is a great place to get dental work done. Dr. Oza is very knowledgeable and never pressuring. I felt totally comfortable when I either went in for a cleaning or had work done. I even had to change times for my appointments and they got me in asap without a problem. I highly recommend Thurmont Smiles and Dr. Oza.
Ana E.
I can tell by the way employees treat you on your first visit how it's going to be and I am so happy that everyone was friendly, very helpfull and really nice. If you are looking for a dentist I recommend thurmont smiles.
Ruth P.
It was my first time at Thurmont Smiles and it was a pleasant one. Everyone was so nice and helpful. They spent time with me to answer all of my questions and my cleaning was great. I have now found a dentist that I like! I highly recommend them! Thank you ladies!
Jeannie D.
I was looking for a new dentist and decided to try Thurmont Smiles for the convenience. Dr. Oza and her staff were extremely friendly. Dr. Oza was very thorough and explained her plan of treatment very well. She was very professional. I would recommend her.
Peggy T.
This was the best experience for me not going to a dentist in atleast 25yrs. The staff there was the friendliest. I felt so comfortable and talked about things that really were bothering me regarding my smile. They made me feel so comfortable relaxed and talked to me like friends. Im so glad I chose Thurmont Smiles. They made my first experience well worth it.
Thank you so much.